"The Black Scorpio story dates way back to 1968 when Maurice Johnson started his one man, one turntable and speakers, set up, playing for friends' parties and street dances in his local area. Little did he know that over 40 years later his operation, which encompasses a sound system, recording complex and long running record label, would still be going strong. A giant of a man, Johnson is affectionately known as big Jack Scorpio, and he has guided his enterprise through the many changes in the music. Even today his Black Scorpio sound system is still active at home and abroad, with Europe being a place that is particularly receptive to the authentic foundation vibes that his sound can deliver.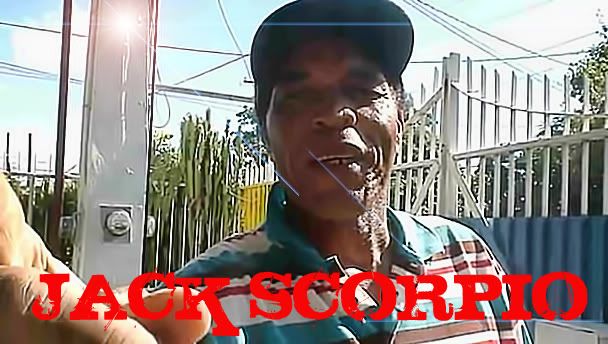 Jack Scorpio based himself at 30 Headley Avenue in the Kingston 20 area known as Drewsland and after acquiring his first amplifiers in 1969 the sound continued to entertain through the seventies. It was around 1976/77 that Jack Scorpio decided he needed a talented deejay to carry things to the next level. That deejay was Lord Sassafrass (b. Michael Johnson) who'd been involved in the entertainment business since the early seventies, starting out as a dancer and also poet. He was however so inspired by a sound system performance by Ranking Trevor on the King Attorney set that he took up the microphone himself. Working first for the Chika sound before moving to Desmond Patterson's Soul Expert set from Patrick City, it wasn't long before he hooked up with Black Scorpio, and the sound gained more and more followers as the new decade began.
Around 1981, Sassafrass made one of Black Scorpio's most important discoveries when he heard General Trees deejaying in his place of work. Sassafrass took Trees to meet Jack Scorpio, who was also impressed with Trees' deejaying talents. General Trees (b. Amos Edwards) learned a lot from Sassa but it soon became clear that his versatile, rockstone delivery was going to make him Black Scorpio's lethal weapon in the dancehall arena. By 1982 Sassafrass was spending a lot of time working on sounds in New York, so the discovery of General Trees kept Scorpio rising.
The Black Scorpio set became known as "The Horseman Sound" as it has had a long association with horse racing, with Jack at one time owning racehorses and Sassafrass having worked at Jamaica's premier racecourse Caymanas Park. Sassafrass is often known as the "original horseman" while Trees is referred to as "the younger horseman".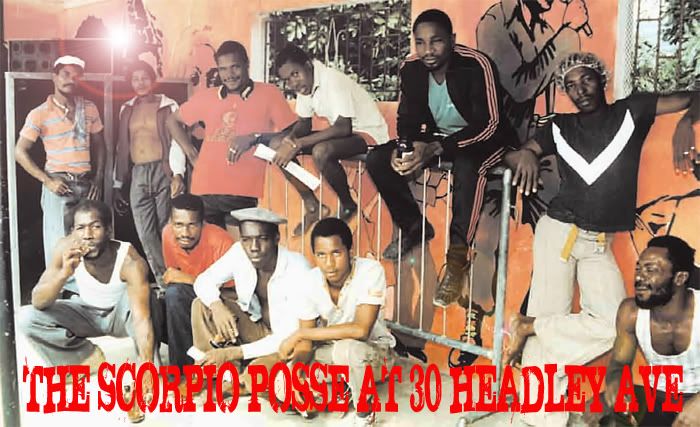 A typical Scorpio dance at this time would feature the seasoned Sassafrass and the increasingly dominating presence of Trees. However, they didn't work the sound alone and they would be assisted by an upcoming youth Shukashine, nicknamed "The Prophet", a good deejay who remained with Scorpio throughout the eighties. Ginger Tea was another of the regular DJ's around the set along with sweet vocalist Patrick Irie (b. Patrick Thomas) who was perhaps Scorpio's original dancehall singer. Their long-time selector Papa Screw was a constant fixture at the controls of the set during the eighties and into the nineties.
Jack first turned his hand to producing records in 1979/80 when he rented studio time at King Tubby's and recorded Sassafrass' take on the" Pink Eye" epidemic sweeping Jamaica. Eventually in the early eighties, Jack built his first studio and with the launch of his first record label, Black Scorpio in 1984, soon the big hits flowed, including Sassa's huge "Pocomania Jump" and Trees' equally massive "Mini Bus". This resulted in more and more artists lining up to voice at the Drewsland complex and this in turn led to an influx of singers and deejays appearing on the Scorpio sound system. Duo Daddy Meeky and Little Meeky had started out as The Meeks around 1983 and they established themselves over the next few years as a tight deejay combination and could often be heard extolling the virtues of food. One of the best female deejays was Spanishtonian Lady G (b. Janice Fyffe), who had been mentored by Papa San, she found a home on the set getting regular time to display her considerable talents. All rounder Culture Lee doubled as Scorpio's recording engineer and sound mixer as well as being a competent deejay in the dance. Barry Back was present on Scorpio throughout most of the eighties and other chatters who played their part included TC, Carter Ranks, Colour Chin, Weng Weng and Frogman.
Joining singer Patrick Irie around 1984 was foundational dancehall favourite Echo Minott (b. Noel Phillips), who originally recorded for Prince Jammy's and worked on just about every conceivable sound system. He had his first major hit "Lazy Body" released on the Black Scorpio label and his distinctive singjay style could regularly be heard mainly as a solo vocalist and occasionally in combination with General Trees. 1985 two more melodic singers came into the Scorpio fold, most prominently Mikey "Bumpa" Melody (b. Michael Edgehill) and veteran roots singer Bobby Melody (b. George Hanson). Internationally known artist Pliers (b. Everton Bonner) and Everton Blender (b. Everton Williams) both recorded for the Scorpio Label and from time to time they would also grace the sound system.
The years 1984 and 1985 were arguably the most successful for Black Scorpio with General Trees standing out as the star of the sound. When he was firing on all cylinders, almost single-handedly, Scorpio could match any of the other notable sounds in a lyrical soundclash. Although they didn't win the major 4 sound clash event held at Cinema 2 on 2nd June 1985, Scorpio's showing was memorable with General Trees driving them on with a typically energetic and lyrically dynamic performance. Scorpio would clash many time with the likes of Youth Promotion, G.T. Hi Fi, Black Star and King Jammy's. In fact a very well prepared Black Scorpio were unluckily the "other" sound in a clash on Waltham Park Road on 23rd February 85 when King Jammy's dropped the "Sleng Teng" for the very first time.
Like a lot of the sounds of the day, touring gave the opportunity to take the set "a foreign". Black Scorpio and General Trees, who had his first tour to England in 1984 with Jack Ruby, headed to USA and Canada in 1985 with Sassafrass, Shukashine and Papa Screw as selector. More tours would follow including a tour of the UK in 1990 which featured Black Scorpio and King Jammy's, both carrying full crews in a soundclash style. Black Scorpio were one of the last sounds to utilise "live" artists but eventually they too had to embrace the juggling scene. Meanwhile General Trees had to revert to stage show performances until eventually, in the middle of the last decade, he joined U. Roy's mighty King Sturgav, one of the last remaining Jamaican sounds still promoting roots and culture entertainers. Now regarded as a veteran in the business Trees remains as popular as ever.
Nowadays Black Scorpio, with Big Jack himself at the controls, tours the world, billed as a foundation sound, juggling vintage and modern dubplates exhibition style. Sometimes clashing with fellow veterans King Jammy's and David Rodigan these events still draw in the crowds and keep alive the history of reggae music. Undoubtedly Maurice Johnson's Black Scorpio sound system has contributed greatly towards the history of dancehall culture."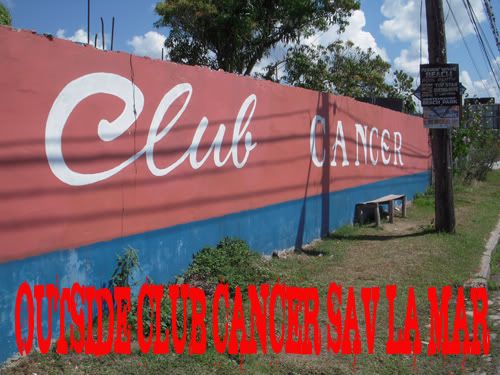 Black Scorpio @ Club Cancer, Sav La Mar, Westmoreland, April 1981
Featuring: Lord Sassafrass, Patrick Irie, Shukashine
Selector – Papa Screw
"Our earliest Black Scorpio takes place at Sav La Mar's infamous go go joint, Club Cancer. Papa Screw has a good, flowing selection which ranges from Tony Tuff to Bunny Wailer with some Barrington Levy and Carlton Livingston in the middle to keep things moving. Sassafrass possesses the microphone for much of this and he's charged on "Jolly Bus", "Forward Home" and, not unexpectedly, on "Horseman Sound". Shukashine's "Bubble Up" and "One Time Scorpio" shows his style up well and to add sweetness to the dance Patrick Irie sings "Run Gone A Westmoreland" and "Wake Me Up Scorpio".
Black Scorpio @ Barbican, Kingston, December 1981
Featuring: Shukashine, Sassafrass, Patrick Irie, Echo Minott
Selector – Papa Screw
"The team travel across to Barbican for this Christmas time date and it's two singers and two deejays who deal the entertainment. Sassafrass warns the "Country Man" against coming to town to make it big, as well as remembering some notable Jamaican heroes, the late Bob Marley and the jockey Wayne Sinclair. It's Echo Minott that catches the ear as he runs through some early incarnations of future hits including "Man In Love" and "Saddest Day Of My Life". Present again is Patrick Irie and he praises the herb on "Marijuana" and gets romantic for the ladies on "Everytime I Look In Your Eyes". It's worth noting that there's no mention of General Trees in any of the 1981 sessions, tending to suggest that he was not yet on the Scorpio scene. Still, this is a very good quality vintage Scorpio session."
Black Scorpio @ Pear Tree Lawn, Mandeville, Manchester, 1984
Featuring: General Trees, Daddy Meeky
Selector – Papa Screw
"Early '84 vibes from Black Scorpio at the Pear Tree venue in Mandeville and this edit is a General Trees tour de force. Papa Screw showcases current hits by Sugar Minott, Little John and Frankie Paul whilst there is no holding back Trees as he canters through nuff lyrics such as "Business A Run", "Respect The Law" and "Can't Take The Fussing & Fighting". This is a fine example of why Trees became so special to the Black Scorpio sound."
Black Scorpio @ Three Piece Lawn, Naggo Head, St Catherine, 1984
Featuring: Shukashine, General Trees
Selector – Papa Screw
"Naggo Head's Three Piece Lawn put on a fair few dances around this time and again it's General Trees controlling things. Apart from an opening shot of "Special Request" from Shukashine it's the "younger horseman" exclusively. He commandeers the versions with bursts of lyrical excellence, celebrating the enjoyment of dancehall on "Under The Vibes", "Star Fe De Show", "Dance A Fe Cork" and all delivered in that familiar "Concrete Voice" that the man possesses."
Black Scorpio @ Mandeville, Manchester, 1984
Featuring: Ringo, General Trees, Lady G, Daddy Meeky, Little Meeky
Selector – Papa Screw
"The Black Scorpio lorry transports the sound to the parish of Manchester, touching down again in Mandeville. Veteran Ringo knows the deejay ropes well and has tried and tested lyrics, such as "New Yorker, New Yorker" and "Flash It In A Stylee", in abundance. Little Meeky and Daddy Meeky go solo for this dance, with the latter's "Country People" kicking on the version of "Be Like A Soldier". Lady G's just getting a foothold on Scorpio and she manages to hold the microphone briefly on "Canter For Me."
Black Scorpio @ Skateland, Half Way Tree Road, Kingston 5, 6th June 1984
Featuring: Peter Metro, Sassafrass, Patrick Irie, Daddy Meeky, General Trees
Selector – Papa Screw
"Peter Metro joins the regular Scorpio posse, which is further enhanced by having Sassafrass back in the ranks. Papa Screw treats the Skateland massive to a selection of hot numbers from Leroy Smart, Frankie Paul and Half Pint. The latter's special "Trying To Conquer Black Scorpio" really stands out and Peter Metro's "Perfect" rocks on the dubcut. Sassafrass shows all his experience as he effortlessly glides over the rhythms, sounding especially good over a trio of Studio 1 classics, for "Galong With The Bubbling", "Want Some Money" and "Duppy Man Party".
Black Scorpio @ Skateland, Half Way Tree Road, Kingston 5, June 1984
Featuring: Shukashine, Spliffman, Papa Dimes, Michael Palmer, Robert Ffrench, Teddy Brown, Joe Lickshot,
Echo Minott, General Trees, Sassafrass, Daddy Meeky, Patrick Irie, Peter Metro, Papa San, Kelly Ranking, Half Pint
Selector – Papa Screw
"Skateland dances often had long roll calls and here Black Scorpio attract many supas of the day to the music room. The Scorpio posse has all their big players in attendance with Sassafrass and General Trees marshalling things in typical horseman fashion. Sassa's "Four Leg Gallop" and "Righteous Chant" and Trees' "Walking Rocking" and "Monkey & Ape" are all memorable whilst singers Patrick Irie, with "Mother Liza" and Dennis Brown sound-a-like Teddy Brown, with "Bad Man Wagon" cool down the pace for a while. Quite a few of the Gemini crew are in the place and Welton Irie, Squiddly Ranking and Papa Dimes guest on Scorpio's mic during the night. Chatting politics on a set was a quite unusual, and a somewhat dangerous thing to do, so its rare to hear Papa Dimes firmly nail his colours to the mast on his unapologetic "We Love PNP".
Black Scorpio @ Gemini Club, 39 Halfa
Black Scorpio @ Gemini  Club, 39 Half Way Tree Road, Kingston 5, circa July 1984
Featuring: Little Kirk, Toyan, General Trees, Early B, Little John, Echo Minott, Peter Metro, Leroy Smart, Half Pint, Ever Red, Junior Reid, Shukashine, Spliffman, Daddy Meeky, Sassafrass, Michael Palmer, Ugly Butters
Selector – Papa Screw
y Tree Road, Kingston 5, circa July 1984
Featuring: Little Kirk, Toyan, General Trees, Early B, Little John, Echo Minott, Peter Metro, Leroy Smart, Half Pint, Ever Red, Junior Reid, Shukashine, Spliffman, Daddy Meeky, Sassafrass, Michael Palmer, Ugly Butte
Selector – Papa Screw"This is a great multi artist session featuring Maurice Johnson's veteran sound Black Scorpio. The "Diseases" rhythm is running wild here and entertainers like Early B, Toyan and Little John all line up to take a turn. The crowd particularly like General Trees who delivers hit lyrics such as "Monkey & Ape" and "Heart, Mind & Soul". The Don, Leroy Smart, seemed to be on every sound tape in 1984 and again he's present to boost his profile versioning a new single "Live Good". Daddy Meeky, one half of the Meeks duo, fires off a couple of nice pieces in "Hey There Cassandra" and "Talking Idiot", while singers Half Pint and Ever Red catch the ear in this Ram Jam session at the Gemini Club."
Black Scorpio v Black Star@ Agricultural Showground, Mandeville, Manchester, 4th August 1984
Featuring: General Trees, Anthony Johnson
Selector – Papa Screw
"Once again it's soundclash time, this time at the Agricultural Showground in Mandeville. This cassette is heavily edited to feature almost solely General Trees who goes about the business of defending his sound in characteristic sound bwoy fashion. "Hit Them Scorpio", "We Kill A Sound" and "Listen Papa Scorpio" are delivered in Trees' rockstone drawl straight to Black Star's head. But it's not all clashing as he covers topics as diverse as "Country Of Spain", "Grandfather Rock" and "Me Teeth A Hurt Me". Singer Anthony Johnson is the only other artist to avoid the cut as he voices out nicely on "Cool Runnings", "Hold On" and "Come Back Baby."
Many thanks to Ruffhouse for this one........
Black Scorpio @ HQ, 30 Headley Avenue, Drewsland, Kingston 20, August 1984
Featuring: Daddy Meeky, Little Meeky, TC, Anthony Johnson, Shukashine, Pompido, Early B
Selector – Papa Screw
"Black Scorpio play in their own back yard for this session held early on in August. As Trees is not present, we get to hear more from the rest of the posse and the Meekys are in good solo form on this one. Daddy Meeky answers a Pad Anthony special with "Black, Black Scorpio" and Little Meeky's "40$" sits nicely on Phillip Fraser's pounding "Never Let Go". TC's "Noisy Box" and Shukashine's "Talkative" also grace this classic dancehall riddim. Towards the end, the "Governor General" Pompido steps in the dance with his growling "Rockstone Voice" and then, just before the tape frustratingly runs out, Early B arrives and excites on "Herb Is The Healing" and "Gateman."
Black Scorpio @ Skateland, Half Way Tree Road, Kingston 5, circa August 1984
Featuring: Shukashine, General Trees, Sassafrass, Echo Minott
Selector – Papa Screw
"The three horsemen of Drewsland ride into Skateland and proceed to ram up the dance. Selector Papa Screw has some new music from Half Pint and Earl Sixteen and some great Studio 1 chestnuts for the deejays to work on. Sassafrass has the most to say here moving swiftly from lyric to lyric on pieces like "Cocky Bully", "Grenada, Grenada" and "Know Bout America". The Diseases riddim is still dominating dancehall sessions and General Trees, with "Jumping Stylee" and Shukashine with "Turn Your Roll" sit down steady 'pon it, horseman fashion!"
Black Scorpio @ Agricultural Showground, Mandeville, Manchester, December 1984

General Trees, Shukashine, Culture Lee

Selectors – Papa Screw, Arthur Dread

"When General Trees and Shukashine lined up together on Black Scorpio they often referred to themselves as "The Prophet and The Prophet". Shukashine was the lesser known of the two but he could more than hold his own as displayed on "Bubbling Stylee", versioned after Barrington Levy's special "When Scorpio A Play". But it was General Trees who had the hits and the Mandeville crowd bawl and move to "Cantankerous", "Monkey & Ape", "Clapper A Bust" and the fast paced "Walking, Rocking". Trees is captured in a fine style on this one."