King Jammy's Super Power v Black Scorpio v Metromedia @ Skateland, Half Way Tree Road, Kingston 5, June 1984
King Jammy's – Tulloch T, Pompido, Junior Reid, Little Twitch, Major Worries, Echo Minott, Chakademus
Selector – Tupps
Mixer – Papa Chris
Black Scorpio – Shukashine, Sassafrass, Half Pint, Daddy Meeky, General Trees
Selector – Papa Screw
"The taped in the dance cassette would have originated from one of the many ghetto-blasters hooked on the wall in and around the Skateland music room. With multiple sounds clashing becoming all the rage, this tape manages to preserve some of the performances of both King Jammy's and Black Scorpio as they battle it out against an unheard Metromedia. It sounds like the early part of the dance as there are few specials to be heard. Jammy's features Tulloch T and Pompido setting out their stall over Tupps' selection of Half Pint and Echo Minott, with Pompi's fast paced "Talker Man" and Tulloch T's "Pon You Toe" standing out. It's notable too for an early outing for Major Worries on "Who Wah". Black Scorpio pick up the pace with Shukashine detailing who's who in the "Horse Family". It's then left to Trees and Sassafrass to cause pure worries in the dance with their combination pieces, "Pocomania Jump" and "Gun Move."
King Jammy's Super Power @ HQ , 38 St Lucia Road, Waterhouse, Kingston 11, 11th August 1984
Featuring: Screecha Nice, Echo Minott, Tulloch T, General Leon, Junior Reid, Pompido
Selector – Tupps
Mixer – Papa Chris
"It's a Saturday night session held at Jammy's HQ in Waterhouse and crew members Tupps and Papa Chris are running sounds from Michael Palmer, Half Pint and Carlton Livingston. The crowd roar their appreciation for deejay General Leon's "Animal Stylee" and Tulloch T proves both "Versatile" and a swift talker on "Me Trim". In 1984 Canadian Screecha Nice visited Kingston for a few months and recorded an unreleased album for King Jammy's and here, on "Big Supe A Talk", "Intelligence & Confidence" and "Gentleman", he chats in his quirky style, some of the lyrics of those aforementioned tracks."
King Jammy's Super Power @ 38 St Lucia Road, Waterhouse, Kingston 11, April 1985

Featuring: Little Twitch, Chakademus, Tonto Irie, Nicodemus, Cutty Ranks, John Wayne, Jah Thomas, Donovan Junior, Joe Lickshot, General Leon, Peter Metro, Thriller, Echo Minott, Louie Ranking, Lee Van Cliff, Half Pint, Brigadier Jerry, Pompido, Dirty Harry, Don Angelo, Junior Reid

Selector – Tupps
Mixers – Chris & Digital Bobby
"A couple of months has passed since King Jammy's unleashed the "Sleng Teng" and they are now Jamaica's undisputed number one sound system and these tapes, running continuously for 3 hours, capture a whole host of singers and deejays live in the Waterhouse area. The location of this could have been at either Jammy's St.Lucia Road H.Q. or the Shaolin Temple Club in the same vicinity. Either way this dance, promoted by Isiah Laing, is wicked. Tonto Irie and Little Twitch come forward with good lyrics and Echo Minott keeps the crowd rocking. American visitor Louie Ranking states that 'Ganja Man A Money Man' whilst Nicodemus sends special request to all Firehouse posses. Brigadier Jerry lifts the crowd with his 'tour the world' lyrics over a slowed down 'Sleng Teng' riddim. John Wayne's performance is energetic, and future hitmaker Chakademus and singer Half Pint touch down on some classic Studio One rhythms. This showcases the vibes, the talent and creativity coming out of the musical hotbed that is Waterhouse."
(Many thanks to Daddy Kentroy for Part one)
King Jammy's Super Power @ Skateland, Half Way Tree Road, Kingston 5, 12th May 1985
Featuring: Nicodemus, General Jah Mikey, John Wayne, Nitty Gritty, Tonto Irie, General Trees, Wayne Smith, Tenor Saw, Colourman, Jah Screw, Little John, Echo Minott, Pompido, Cutty Ranks
Selector – Tupps
Another all star line-up for this session in Skateland Roller Disco and it makes for a hell of a lively dance. Tupps flings a non stop barrage of classics for the entertainers to work over making the crowd bawl forward time and time again. Great to hear both Tenor Saw & Nitty Gritty on the same tape in their prime. Sleng Teng was ruling at this time and all the supes line up to take their turn over the rhythm including the originator Wayne Smith. All in all another classic piece of the Superpower in session...
King Jammy's Super Power @ Pineapple Club, Ocho Rios, St Ann, June 1985

Featuring: Tonto Irie, Don Angelo, Pad Anthony, Dread Bob, Junior Demus, John Wayne, Pompido,
Dirty Harry, Nicodemus, Chakademus, Juice Man

Selector – Tupps

Mixer – Papa Chris

"Recorded at Ocho Rios' Pineapple Club, when the champions King Jammy's brought their mega sound up to the north coast. Tupps is dropping some classic rhythms here as well as a wicked Half Pint special "Papa Jammy's A Champion". The Studio 1 "Hi Fashion" coaxes some great performances from the likes of Chakademus on "Turbo Charge", Tonto Irie on "Heroes Session" and Fadda Nicodemus with "Coke Seller" and "Fantastic". It's always a pleasure to hear Don Angelo on a sound and he was a stalwart on Jammy's around this time and his distinctive singing can be heard on "Colour TV" and his popular "Shirley".
King Jammy's Super Power @ U.W.I Students Union, 8 Cedar Valley Road, Standpipe, Kingston 6, 8th June 1985

Featuring: Tonto Irie, Chakademus, Danny Dread, Tiger, Pompido, John Wayne, Zuzu, Cracky, Half Pint

Selector – Tupps

"It's been just eight days since the big 4 soundclash at Cinema 2 which pitted, amongst others, Jammy's against Black Star. But this shows that there are no grudges held as this dance at the Students Union is coming like King Jammy's meets Black Star. The reason for this is because the event is a Tonto Irie promotion and all his old pals have turned up to show their support. Danny Dread joins John Wayne for a rousing duet on "Under We Ganja" and the manic Tiger makes sure the crowd gets "Music For Your Money" as well as lyrics galore. Zuzu and Cracky take the microphone for "Slow Rap" and "True Love" respectively while singer Half Pint is another associated with both sounds and he belts out a couple of his monster tunes, "Winsome" and "One In A Million" to keep the Standpipe massive happy."
King Jammy's Super Power @ Lyssons, St Thomas, July 1985

Chakademus, John Wayne, Tulloch T, Scaramouche, Don Angelo, Papa Chris, Nitty Gritty, Mikey Culture

Selector – Tupps

Mixer – Papa Chris

"Lyssons is a town in the parish of St Thomas and they play host to Jammy's who are there with quite a strong line up of regulars. Tulloch T has been on the scene for a fair few years, first gaining recognition as Papa Tullo, and his "Haul & Pull Up" shows that he still knows how to handle a microphone. Papa Chris steps from behind the mixing console to deejay "Under We Sleng Teng" and "Taking Peacock" while newcomer Scaramouche shows his mettle on "Ganja Body" and "Live Stock". John Wayne is prominent on this tape too, working alongside Don Angelo for "Church Member" and Chakademus for "Jammy's A Number 1". Another lively Jammy's session."
King Jammy's Super Power @ Caenwood Community Centre, Hope Bay, Portland, 6th August 1985

Featuring: Don Angelo, Pompido, Admiral Bailey, Papa Chris, Jackie Knockshot

Selectors – Bobby Digital & Tupps

Mixer – Papa Chris

"Jammy's seem to be playing out seven nights a week now and the promoter Cat has booked them for a Tuesday night session held at Hope Bay's Caenwood Community Centre. Admiral Bailey is the senior deejay present and as usual his exuberant personality lights up the dance. Many lyrics flow from the man with "All Island Strike", "Obeah Worker", "Man A Eat Man" and "Barbarian" being just a small sample of his considerable talents. Pompido manages to get a word in edgeways now and then, as heard on "Hard Nut To Crack", but really this tape belongs to the whirlwind that is Admiral Bailey."
King Jammy's Super Power @ St Anns Bay, St Ann, mid August 1985
Featuring: Chakademus, Papa Chris, John Wayne, Marlon Brando, Tonto Irie, Hugh Griffiths, Don Angelo, Admiral Bailey, Nitty Gritty
Selectors – Bobby Digital & Tupps
Mixer – Papa Chris
"King Jammy's are in the parish of St Ann preparing for a clash with Jack Ruby to be held the next night. With help from our good friends, Ruffhouse & Keimo, who each provided us with an extra 30 minutes, this dance is now a massive 4 part extravaganza charting Jammy's progress throughout the night. The sound crew are not afraid to open the "specials" box because they know they have so many exclusives that can't be matched. These include killer shots from Patrick Andy, Little John, Pad Anthony, King Everall, Hugh Griffiths, Johnny Osbourne, Tenor Saw, Nitty Gritty and Echo Minott. Hugh Griffiths is here in person too, and can be heard recreating his Jammy's dub plate "Everybody Bawling". Mic chanter Chakademus is in fine form with hits like "Control The Spot", "Professional" and "Cantankerous" all flowing and he features on all parts of the dance. So does John Wayne who has been on the scene for a long time but finally, with the release of "Call The Police", his solid, rough house deejay style is getting him noticed. Further tunes from him, like "Dash Weh Belly", "Jealousy A Kill Me" and "Strong Ganja", show why John Wayne was an unheralded but vital member of the ruling King Jammy's set up."
King Jammy's Super Power v Jack Ruby @ Damali Beach, Montego Bay, St James, mid August 1985
Featuring: Admiral Bailey, John Wayne, Echo Minott, Tonto Irie, Shinehead, Jackie Knockshot, Nitty Gritty, Pompido, Don Angelo, Hornsman, Chakademus,
Selectors –Tupps
Mixer – King Jammy
"On 10th August Montego Bay was due to hold the island's second major 4 sound clash dance at Ironshore and it was to feature G.T., Studio 54, Jack Ruby and King Jammy's. As it turned out Jack Ruby didn't make the dance and Sturmars replaced them. So a clash between King Jammy's and Jack Ruby was long overdue and here's Jammy's side of the long awaited Mo Bay dust up. Selector Tupps digs deep from the sound box and produces some top rate special which includes Pad Anthony's "Jammy's A De Boom", King Everall's "Another Soundbwoy" and Admiral Tibet's fierce "War Can't Over". With a barrage of the sound's top deejays such as Admiral Bailey, John Wayne, Chakademus and Tonto Irie present, in all probability Jack Ruby were swept away. Add to this Shinehead, with a blistering "Rough & Rugged" and singers Don Angelo, Nitty Gritty and Echo Minott there could only be one winner on the night."
King Jammy's Super Power @ Entertainment Complex, 37 Waltham Park Road, Kingston 13, 1985
Featuring: Super Black, Admiral Bailey, Tonto Irie, Chakademus, Nitty Gritty, Danny Dread, Scion Success, Sister Carol, Don Angelo, Michael Prophet
Selector – Tupps
"Jammy's assemble an all star line up for this dance at the Entertainment Complex in Waltham Park. The Danny Dread here is from Black Star and he joins Tonto Irie, Admiral Bailey and Chakademus and together they really cause a stir in the lawn. The lyrics flow like rain as they take turns on the microphone. Tonto's "Life Story" and Bailey's "Liquor Party" are neatly stapled to the now omnipresent "Sleng Teng" juggernaut. Add to this Chaka's "Superlative and Danny's "Cemetery" and an extra bonus of six singers, this dance, in the words of Admiral Bailey, "Ketch A Fire!"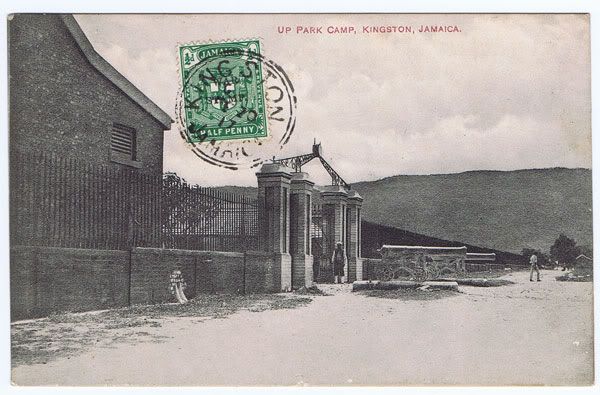 King Jammy's @ Up Park Camp, Kingston, early October 1985

Tonto Irie, Brigadier Jerry, John Wayne, Admiral Bailey, Pompido, Don Angelo, Jackie Knockshot, Johnny Osbourne

Selector – Tupps

Mixer – Papa Chris

"The "Sleng Teng" is obligatory for 1985 and this session, at Kingston's Up Park Camp, opens with selector Tupps running the said riddim. Brigadier Jerry likes to work the "Slow Teng", over which he deejays his travelogue lyrics "Briggy Gwan A Foreign". Johnny Osbourne's special "Jammy's In The Area" is a real heavyweight favourite and it ushers the man himself to the mic and he responds with ""Me No Care" and "Livestock, Deadstock" just as the tape halts unfortunately. Part 2 anyone!"
King Jammys vs Metromedia Stand Pipe Lawn 24-10-1985

Featuring: Nitty Gritty, Pad Anthony, Brigadier Jerry, Admiral Bailey, Chaka Demus, Tonto Irie,John Wayne, Anthony Malvo, Hornsman, Jackie Knockshot....................

Operator: Tupps
Its Soundclash time again as Jammys the Superpower take on Metromedia and with the Brigadier as special guest you know they are going to be hard to beat!
King Jammys Superpower Ascot Drive In, Old Harbour, St Catherine JA
21-12-85

Featuring: Admiral Bailey, Chaka Demus, Pampidoo, John Wayne, Flip Wilson, Don Angelo

Operator: Tupps...

King Jammys Heavyweight sound is in the area to nice up Ascot Drive in Cinema Lawn in this nice session from December 1985. Tupps draws some classic Jammys dub plate killers and the Jammys crew deliver the goods lyrically time and time again. For this session they are joined by the singer Flip Wilson.
As with nearly all Jammys sessions this ones full of vibes and top notch selection, all in all a classic piece of mid 80's dancehall when once again the dances where changing, just a shame it finishes as tupps draws the Tenor Saw Jammys Special of 'Ring the alarm'........
King Jammys Superpower Firehouse January 1986

Featuring: Nicodemus, Echo Minott, Admiral Bailey, Major Worries, Chaka Demus, John Wayne, Pompidoo, Tullo T, Don Anjelo, General Leon, Gregory Nose, Jackie Knockshot

Selector: Tupps
King Jammy's playing on home turf with yet another wicked line-up.
King Jammys vs African Symbol & Tikka Music, Montego Bay April 1986

Featuring: Admiral Bailey, Chaka Demus, Major Worries, Don Angelo
Woodie Noble, Tullo T, Pompidoo, John Wayne, Hornsman, Jackie Knockshot

Operators: Bobby Digital & Tupps
King Jammy's always held their corner in a sound clash and here they are firing on all cylinders as they take on two sounds in Mobay. Wicked dub-plates aplenty from Tupps & Bobby Digital and first class performances from the whole Jammys posse make this one unmissable.
King Jammys Superpower Central Park Lawn Negril 1986 Part 1
Featuring: Major Worries, Admiral Bailey, Chaka Demus, Principal Grundy
Operator: Tupps Mixer: Chris
This one's another exclusive, super crisp line in recording courtesy of Brother White Squall and it catches King Jammys in session at Central Park in Negril.
Tupps plays dub-plates galore from Pinchers, Johnny Osbourne, Pad Anthony & Little John and at this time Jammys was ruling the dances with his killer digital rhythms & top drawer artists waiting to ride them.
All of the deejays give great performances and as always when Jammys were in the area the dance is full of vibes.
Great to get to hear veteran Principal 'Jah' Grundy on the superpower and when Tupps goes down inna Studio 1 selection towards the end of the tape he and the new school Jammys crew ride the classic rhythms to the max….
There should be some more parts to this to come at a later date…. Thanks once again to White Squall for another KILLER!!!!
King Jammys Superpower Central Park, Negril 1986 Part 2
Featuring: Admiral Bailey, Major Worries, Super Black, Hugh Griffiths, Pampidoo, Tullo T, Chakademus, Hornsman..
Selector: Tupps.
Here's a next part to this great session coming exclusively on WCTD from the White Squall line-in archives. This is another straight from the master tape and is super crisp quality..
Plenty of those great Jammy's dub plates and we get to hear a lot of the late Major Worries on the mic. Solid vocal performances from new school singer Super Black and dancehall veteran Hugh Griffiths.
Another classic Jammy's session exclusive to WCTD... Part 3 coming soon!!
Many thanks once again to Daddy Squall...
This is a fine Jammys session courtesy of our old friend Daddy Scorpion... Was running slow and needed some fixing up, it's sounding pretty nice now..

King Jammys live at Water House St Lucia Road Sept 86

Featuring: Jnr Reid ,King Everall,Michael Buckley,Don Angelo,Super Black,Supa Barry,Admiral Bailey,Chakademus,Major Worries,Little Twitch & More

Operator: Tupps
This is what Daddy Scorps had to say about this one....

"This Session sees the return of Jnr Reid to the Dancehall scene after joining Black Uruhu the Waterhouse massive go wild... nice vibes "

Many thanks my friend....

Download 2016
King Jammys Superpower vs Redman Nine Miles November 1986


Featuring: Lieutenant Stitchie, Admiral Bailey, Major Worries, Chaka Demus,
Peter Metro, Pompidoo, Superblack, Don Angelo, Woodie Noble,
Wayne Palmer................


Operator: Bobby Digital
King Jammys are playing against Redman in the Nine Miles area and for this clash they have enlisted the talents of Big Supe's Stitchie & Metro. We also get to hear the regular Jammy's Posse and with their unlimited supply of special's and perfomers who were running things in this era, you know it's going to be trouble!!
This one's a special request to Daddy Keimo...
King Jammys Superpower Sombrero Club, Molines Road May 1987

Featuring: Josie Wales, Major Worries, Lord Sassafrass, Admiral Bailey, Little John,
Little Twitch, Risto Benji, Anthony Malvo, John Wayne...

Operator: Tupps.......
Another all star line-up around Jammy's control tower makes for another cracking session.
King Jammy's – Eagles Nest Pub, 53 ¼ Waltham Park Road, Kingston, May 1987

Featuring: Major Worries, Anthony Malvo, Admiral Bailey, Shabba Ranks, Little Twitch, Risto Benji, Derrick Irie, Tulloch T, Bigga Prophet

Selector – Tupps

"Champion sound King Jammy's Super Power was the sound/label with the magic touch and here is a session that shows why. Most of the big hitters are here including Admiral Bailey, the late Major Worries and future international star Shabba Ranks. Add Jammy's regulars like Little Twitch, Risto Benji and Tulloch T to the mix and you have another entertaining dancehall night."