"Virgo International Hi Fi was a sound which started out around 1977 and was owned by Ronald Ballantine, better known as Ronnie Virgo. At the beginning he recruited deejays, I Roy and Ray I to hold the microphones. I Roy (b Roy Reid) was already highly regarded as a classic pioneering deejay, having worked for many early sounds like Son's Junior, Supreme Ruler of Sound, V. Rocket and King Tubby's Home Town Hi Fi amongst others. Ray I (b. Raymond Bygrave) was perhaps less well known, but he stepped up from Tantone Hi Fi to help boost up the Virgo sound. The Virgo HQ was to be found at 5 Lincoln Road, Crossroads in the Kingston 5 district.
e sounds success must have persuaded Ronnie Virgo to go into record production, as he also launched his own "Virgonian" imprint in 1977. Vocalists such as Cornel Campbell and Brent Dowe cut records for his label and there were also a couple of deejay tracks by Ray I and Trinity.
The label may have been quite short lived but the sound system went from strength to strength and by 1979, Welton Irie (b Welton Dobson) was also to be found regularly on the set. By this time Tony Virgo (b Anthony Hayles) had been recruited as selector and his love of Studio One riddims was obvious as they always featured heavily at the dances that Virgo kept.
By 1980 Lone Ranger (b Anthony Waldron) had joined the ranks, and with his past experience on East Kingston's Soul Express set and later on the Soul To Soul sound system, coupled with his massive popularity on record, with hits like "Barnabas Collins" and his big seller "Love Bump", everything clicked together. Any session which featured Ranger guaranteed excitement, featuring a mixture of cultural and slack lyrics combined with rapid delivery and humour.
Lone Ranger's involvement with Virgo earned the sound the El Suzie award for "Sound System of the Year" in 1980, with Ranger picking up the "Deejay of the Year" award the following year. Popular singers to feature on the set included Greenwich Town singer Sammy Dread (b Stewart Farquharson) and Lone Ranger's spar Carlton Livingston, who had also started out at Soul Express. Other deejays often to be found working on the sound included experienced and well travelled 70s mikemen such as U. Brown (b Huford Brown), Ranking Trevor (b Trevor Grant) and Nicodemus (b Cecil Wellington).
Sometime in 1982 the Virgo set migrated to New York and still continued to hold dances with Nicodemus, his spar Mikey Slew and other ex-pat Jamaicans holding the mic, but their time was coming to an end and soon selector Tony Virgo joined New Jersey's Papa Moke Hi Fi, taking the new name Ayatollah when he went.
Coming up here are over 25 examples of why Virgo was one of the premier sound systems in Jamaica at the birth of the dancehall era."
Session One: Virgo Hi Fi Rosemore Centre, Kingston April 1979
Featuring: Welton Irie..
This 1979 session is the earliest Virgo session we've heard and it shows they always favoured tuff Studio One rhythms and here they spotlight Alton Ellis in particular. Welton Irie is in sole control of the microphone bubbling in fine style, and when the selector drops a Leroy Smart selection Welton shows he can sing in a Smart style too.
Session Two: Virgo Hi Fi Admiral Town, Kingston 9-12-1979
Featuring: U Brown, Ranking Trevor, Welton Irie, Brigadier Jerry, Hugh Griffiths
Operator: Tony Virgo
U Brown states "4 bad deejays haffe chat" on the Virgo sound playing down in the Admiral Town area. Briggy joins in briefly and Welton Irie's lyrics turn slack even though he was surrounded by cultural deejays. Hugh Griffiths steps up and showcases his Alton Ellis style vocals over some popular Treasure Isle and Channel One versions.
Session Three: Virgo Hi Fi Uptown Kingston 1980
Featuring: Brigadier Jerry, Papa Nando
Operator: Tony Virgo
On hearing this 1980 session recorded somewhere in uptown Kingston, you could be fooled into thinking this was a Jah Love dance. There is no slackness here as Briggy chats in an orthodox style. He's joined by little known deejay Papa Nando and they voice over Studio One and other vintage tunes like "Prophecy" and "Baba Boom".
Session Four: Virgo Hi Fi Standpipe Lawn April 1980
Featuring: Lone Ranger, Sammy Dread, U Brown, Yellowman, Jah Bull
Operator: Tony Virgo
This is a great Virgo session recorded in the Standpipe area and has both Lone Ranger and U Brown in fine form riding selector Tony's wicked top tunes of the day from the likes of Barry Brown and Tony Tuff. There's even a rare appearance from conscious chanter Jah Bull and dancehall singer Sammy Dread adds his voice to the mix. Albino sensation Yellowman completes this session with a typical tour de force of styles.
Session Five: Virgo Hi Fi Up Park Camp, Kingston 1980
Featuring: General Echo, Lone Ranger, Barrington Levy, Sammy Dread, Welton Irie
Operator: Tony Virgo
This tape has Stereophonic main man General Echo guesting on the Virgo sound in the Up Park Camp area. The General is the star as usual and he and Ranger in a slack combination on "Old Broom" have the crowd calling for more. "Mellow Canary" Barrington Levy runs through a nice medley of his hits and Sammy Dread and Welton Irie add to the vibes of this enjoyable dance.
Session Six: Virgo Hi Fi vs Stock International, Virgo HQ, Lincoln Road, crossroads May 1980
Featuring: Welton Irie, Spliffman
Operator: Tony Virgo
This was taped at Virgo's HQ in Lincoln Road, and has them playing alongside Stock Int. Hi Fi but things are "strictly no competition" here. Jacob Miller is remembered and Tony keeps the tunes rootsy. Regular visitor, Welton Irie is joined by the lesser known Spliffman. It wouldn't be Welton without a good dose of slack lyrics and he doesn't disappoint the massive here.
Session Seven: Virgo Hi Fi Skateland 1980
Featuring: Lone Ranger, Welton irie, Yellowman, Ringo, Jah Thomas
Operator: Tony Virgo
This is a short portion of a session at one of Kingston's premier dancehall venues, Halfway Tree's famous Skateland Roller Disco. Ranger, Welton and Ringo work well together and individually. Tony flings down a nice Virgo megamix special over the "Boxing" rhythm and Yellowman gives us his "Morning Ride" lyrics. Jah Thomas comes in right at the end but unfortunately the tape ends just as he's getting going.
Session Eight: Virgo Hi Fi Cope Lawn, Southside Kingston 1981
Featuring: Lone Ranger, Barrington Levy, Sammy Dread
Operator: Tony Virgo
The Cope Lawn venue in downtown Kingston plays host to the Virgo posse. Selector Tony is running Dennis Brown like rain and Lone Ranger rides the versions continually. Sammy Dread is again present airing his dancehall favourites "Road Block" and "Gonna Take A Miracle". Youthman singer Barrington Levy also gets extended time on the mic and his contributions are very entertaining.
Session Nine: Virgo Hi Fi Harbour View 1981
Featuring: Lone Ranger, Welton Irie
Operator: Tony Virgo
This out of town session in Harbour View has Lone Ranger and Welton Irie handling the deejay duties. Ranger rides the "Rougher Yet" riddim for his "Sister Pat" piece, then bizarrely, Welton Irie steps in to reproduce Rangers "Love Bump" word for word. The selections include tunes from Barry Brown and Carlton Livingston and some nice Sammy Dread dubplate specials towards the end.
Session Ten: Virgo Hi Fi Skateland Roller Disco, Halfway Tree 1981
Featuring: Lone Ranger
Operator: Tony Virgo
Virgo in Skateland once more and although Django is present it's really only Lone Ranger captured on tape. In fact Ranger at one point laments there being "too much tape in the dance" and then he hears his lyrics pirated on the radio days later. Luckily those same tapes mean that we can enjoy these vintage sessions years after. There's a nice "Read Up Jah Bible" section which features a Sammy Dread special and Ranger calls for unity over a heavy cut of "Cuss Cuss".
Session Eleven: Virgo Hi Fi 82 Chisolm Avenue 1981
Featuring: Ray I, Lone Ranger, Lee Van Cleef
Operator: Tony Virgo
Popular venue 82 Chisholm Avenue located "on the Waltham" hosted many a dance over the years. This Gilliepriest promotion has Virgo veteran Ray I chatting over Gregory Isaacs "Midnight Cowboy" as well as a lyrical Lee Van Cleef, who's in good form riding riddims like "Gunman" for his "Cowboy Story". The Lone Ranger then rides in for "How The West Was Won" in the middle of Tony's Sugar Minott selection.
Session Twelve: Virgo Hi Fi Students Union Lawn, 8 Cedar Valley Road April 1981
Featuring: Lone Ranger
Operator: Tony Virgo
The Students Union at the University of West Indies was used for many a rub a dub dance. Here Lone Ranger, as he did on many occasions, mans the control tower on his own. Virgo are preparing for a forthcoming big clash with Jammy's and music from Barry Brown, Mighty Diamonds and Johnny Osbourne rule this dance. Ranger warms the place with "Promise is a Comfort", "Flora Lee" and "Dance A Fi Cork"
Session Thirteen: Virgo Hi Fi vs Ghetto Montego Bay 1981
Featuring: Lone Ranger, Nicodemus, Carlton Livingston
Operator: Tony Virgo
Virgo are in Montego Bay and they are paired against local sound Ghetto International for this dance. There is some friction between them and Ranger announces the "Burial" of Ghetto in dramatic fashion. He has the veteran Nicodemus alongside him and he gives us "The Good, The Bad and The Ugly" and the saga of "Willie Red". Sweet voiced singer Carlton Livingston comes in near the end singing the praises his girl "Marie".
Session Fourteen: Virgo Hi Fi vs Black Scorpio Skateland Roller Disco 1981
Featuring: Lone Ranger, Lui Lepke, Ranking Joe, Carlton Livingston
Operator: Tony Virgo
Two sounds clash in Skateland once again and this time Virgo meets with Black Scorpio. Ranking Joe makes a brief cameo appearance as does Lui Lepke who gets a forward for his piece on "Old Broom". Once again though, it's the Lone Ranger who's the star of the show with renditions of "World War 3" and his big smash "M16".
Session Fifteen: Virgo Hi Fi Manchester Avenue, Maypen, Clarendon 1981
Featuring: U Brown, Lone Ranger, Eek A Mouse
Operator: Tony Virgo
The quality of this taped in the dance session is not always great, but it showcases "Two chatterbox" deejays U.Brown and Lone Ranger.VeteranU.Brown gets the forwards from the Clarendon massive for his "Tell MeWhat You Want" piece. Ranger's "Gunshot" keeps them bawling for morebut, surprisingly, they are quiet for Eek A Mouse's brief appearance,considering how popular he was at this time.
Session Sixteen: Virgo Hi Fi Skateland 1981
Featuring: Yellowman, Puddy Roots, Lone Ranger, Nicodemus....
Operator: Tony Virgo...
Yellowman is the lead off artist for this Skateland session whichfeatures a fine and varied musical selection from Tony Virgo. Puddy Roots displays his earlier deejay style here over Paulette's wicked "MyOnly Love". Yellowman, Ranger and Nicodemus then share the microphone and have the skaters rocking to Papa Virgo's Rub A Dub.
Session Seventeen: Virgo Hi Fi Chisolm Avenue 1981
Featuring: Dillinger, Lone Ranger, Lui Lepke, Ranking Toyan, Micheal Palmer, Papa Dimes,Lee Van Cleef, Ray I, Stanley Braveman, Perry, Ranking King
Operator: Tony Virgo
A whole host of artists pass through this Virgo dance in Chisholm Avenue. As usual Ranger is running the show but he's ably supported by Ranking Toyan and Lui Lepki, and all deejay the music which is almost exclusively Studio One style. Veteran toaster Dillinger is having problems with his girl "Jennifer" and later on there's a segment that features soon to be popular singer Michael "Palmer Dog" Palmer, who's "Never Gonna Give Virgo Up". There's also room for small contributions from lesser known entertainers like deejay Ranking King, singjay Perry and a versatile Ugly Francis.
Session Eighteen: Virgo Hi Fi Club Cancer, Sav La Mar 1981
Featuring: Lone Ranger, Jah Grundy
Operator: Tony Virgo
Virgo are on the road again and it's a Friday night jamboree at Club Cancer, Sav La Mar in the parish of Westmoreland. Ranger's the main man and he's "Flat Foot Hustling" on the 7th Extensions dancehall favourite "Hard Times". Barry Brown, Tony Tuff and Johnny Osbourne are the musical order of the day. Deejay Jah "Principal" Grundy is in the area too, urging the youth to "Gwan A School" in his short spot.
Session Nineteen: Virgo Hi Fi Unknown Location 1981
Featuring: Lone Ranger
Operator: Tony Virgo
A short snapshot from a Virgo session recorded at an unknown location. Tony's selecting some favourites from the likes of Mighty Diamonds and Johnny Osbourne once again. A solo Lone Ranger displays his lyrical gymnastics particularly well over the Diamonds "Jah Is On My Mind" and he calls for unity over the same groups cut of " Declaration Of Rights"
Virgo @ Lucea, Hanover, August 1981

Lone Ranger

Selector - Tony Virgo

"Virgo are riding west taking the road to the coastal town of Lucea. There were many times when Lone Ranger would take the microphone as the set's only entertainer and he, like Brigadier Jerry, had no problem lasting the night. There are some very familiar tunes that Tony Virgo chooses and Ranger tackles the versions in his own inimitable style."
A slight break from the live sessions to feature this interview with Lone Ranger at the height of his popularity. It was done by David Rodigan in New York and was featured on his legendary Capital Radio show in 1981....
David Rodigan Meets The Lone Ranger 1981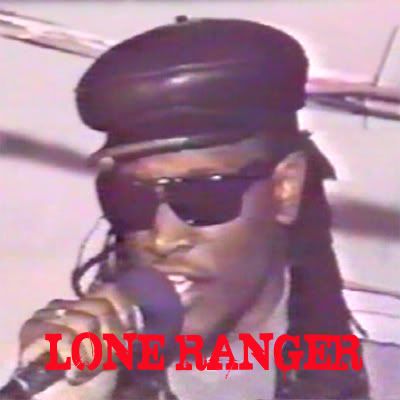 Session Twenty: Virgo Hi Fi Skateland July 1981
Featuring: Lone Ranger
Operator: Tony Virgo
Here's an hour and a half of the Lone Ranger in full control of the Virgo microphone stand. Like Brigadier Jerry, he can ride the versions all night if needed and this is a fine example of the man at work.
Session Twenty One: Virgo Hi Fi 82 Chisolm Avenue 23 - 8 - 1981
Featuring: Ray I, Ranking Toyan, Puddy Roots, Jack Sowa, Phantom, Little Trevor,Lone Ranger, Lee Van Cleef
Operator: Tony Virgo
"A Virgo Skank in a Higher Rank" chants their veteran deejay Ray I, rocking the crowd at this dance in Chisholm Avenue. He has plenty of time to shine, riding some tuff Roots Radics tunes here. Toyan, "Your Boss DJ", teams up with Puddy Roots for a combination piece praising up the sound over the Wailing Souls "Upfront". More deejays pass through including Phantom, Little Trevor and cassette man Jack Sowa, who shows he can chat lyrics as well. Main man Lone Ranger turns up later on in the session, rocking the people with Papa Lee Van Cleef."
Session Twenty Two: Virgo hi Fi Chisolm Avenue October 1981
Featuring: Welton Irie, Little John, Micheal Maggotty, Captain Sinbad, Ranking Prendegast,Danny Dread
Operator: Tony Virgo
Chisholm Avenue is the host once again to the Virgo set. Welton Irie controls things around the microphone centre, chatting in his confident style and without the slackness this time. His piece on the Studio One "Never Let Go" really brings out the best of Mr Irie. The strangely named Michael Maggotty gets his chance to voice out and he urges the youth to ease off on the violence. Ranking Prendegast and Danny Dread pass through as does Captain Sinbad, a deejay not often captured live in the dancehall, and here he comments on the world affairs of the day.
Session Twenty Three: virgo Hi Fi Oracabessa, St Mary October 1981
Featuring: Welton Irie, Gilliepriest, Nicodemus
Operator: Tony Virgo
"Virgo's set is out on the road again, this time in Oracabessa on Jamaica's North Coast. Tony has a Roland Burrell dubplate selection for the St Mary people and Welton Irie offer's his take on the "Soldier Take Over" saga. Gilliepriest, the legendary gateman, dance promoter and sometime deejay, is in the area and he steps up to the mic for a quick money rundown. Dennis Brown's "Have You Ever" proves popular, with Nicodemus flashing his "Wife & Sweetheart" lyrics and Welton discussing what goes on in the "Labour Ward, Down a Jubilee."
Session Twenty Four: Virgo Hi Fi Sant Cruz, St Elizabeth December 1981
Featuring: Welton Irie, Phanso Ranking
Operator: Tony Virgo
"With Lone Ranger touring the world on the back his recording success, it's left to Welton Irie to control things for Virgo. This dance in the town of Santa Cruz deep in the parish of St Elizabeth finds Welton commenting on everything from the Pink Eye epidemic to praising up the ganja farmers and their smuggling operations. In Ranger's absence young Virgo apprentice Phanso Ranking also gets a chance to display his talents over Tony's fine Wayne Jarrett selection."
Session Twenty Five: Virgo Hi Fi King Western Lawn, Oracabessa, St Mary December 1981
Featuring: Prince Jazzbo, Nicodemus, U Brown, Ranking Trevor
Operator: Tony Virgo
"This end of the year session, in Oracabessa again, has four seventies' deejays in attendance. Tony Virgo's musical spotlight shines brightly on Michael Prophet, whose tunes are running the Jamaican dancehall's. U.Brown and "Mr Fabulous" Nicodemus are on hand to deejay the versions. Nico D is particularly strong over the massive "Gunman" rhythm. Long time chanter Prince Jazzbo rouses the crowd with "Babylon Out A Hand" and later voicing his concerns about the fashions of the day. Towards the end of this taped in the dance session Ranking Trevor is let loose over Dennis Brown's "Hold On To What You've Got"
When we were compiling the tapes for the special feature on Virgo we knew that a download of this late 1981 dance had done the rounds before. But it soon became clear that between us we had 3 or 4 different parts of the same night. So Jayman has stitched all the different parts together and here we present a Virgo "mega session" which clocks in at a mighty 3 hours 35 minutes long.Session
Twenty Six: Virgo Hi Fi Arrows Bamboo Lawn, Oracabessa Decmber 1981
Featuring: Nicodemus, U Brown, Ranking Trevor, General Tubby, Nico Junior
Operator: Tony Virgo
"This pre Christmas session was held at Arrows Bamboo Lawn, a long time dancehall venue, in Oracabessa. This is a great chance to enjoy a large segment of an evening's entertainment provided by Virgo International. The veterans U.Brown, Nicodemus and Ranking Trevor share the deejay responsibilities throughout the night, with the microphone occasionally being handed to newcomers General Tubby and Nico Junior aka Junior Demus. Tony selects all the popular vocal tunes of the time, meaning there are plenty of chances to hear favourites from Triston Palmer, Gregory Isaacs, Michael Prophet and Dennis Brown."
Session Twenty Seven: Virgo Hi Fi vs Taurus International Skateland, Kingston 1981
Featuring for Virgo: Yellowman, Carlton Livingston, Lone Ranger, Sugar Minott, Trinity, Lui Lepke, Welton Irie
Operator: Tony Virgo
Featuring for Taurus: Ringo, Sassafrass, Brigadier jerry
Operator: Fannie
"It's Portland versus Kingston when "Two Big Sounds" clash at Jingles' Skateland. This tape, unusually, has a portion from both sounds starting with Taurus who have their regular deejay Courage backed up by experienced Kingston MC's Ringo, Sassafrass and Briggy. Tony's pure Studio One selection ushers in the Virgo sound. Lone Ranger's "Dance A Fe Cork" has the crowd roaring for Virgo, and singer Carlton Livingston performs his big "Marie" hit live to counteract Taurus playing the vinyl 45 earlier. Sugar Minott and Trinity are good in combination too. The Skateland musicroom must have been rammed with entertainers for this 1981 showdown."
Session Twenty Eight: -- Virgo Hi Fi @ Green Oasis Club, Brownstown, St Ann 25-7-81 --
Featuring: Lone Ranger, Phanso Ranking...
Operator: Tony Virgo...
"The promoter "Bobo" has brought Ronnie Virgo's set from Kingston for a date at Browns Town's Green Oasis Club. Lone Ranger, Jamaica's 1981 deejay of the year, is aided by his apprentice, a largely edited out Phanso Ranking aka Alphanso Reid, and they hail up the whole of the Virgo posse as the "Dub Organizers". As usual Ranger has lyrics galore for this bass heavy recording, which has Tony selecting Linval Thompson, Wayne Jarrett and Johnny Osbourne tunes from Virgo's large dub box."
Session Twenty Nine: -- Virgo Hi Fi @ Redside Theatre, Yallahs, St Thomas 26-12-81 --
Featuring: U Brown, Ranking Trevor...
Operator: Tony Virgo...
"Recorded late in December, here Virgo is captured live in the coastal town of Yallahs in St Thomas. Once again U.Brown and Ranking Trevor are to be found alongside Tony Virgo for this dance. "UB" gets the crowd bawling "forward" for his new release "Gimme The Music", his piece to the Diamonds huge "Pass The Kouchie", while "Ranking T" asks why all the youths are turning to guns and crack cocaine. Tony Virgo runs an extended Treasure Isle selection and for the veteran deejays it's like stepping back ten years in time."
Session Thirty: -- Virgo Hi Fi @ Church Avenue, Brooklyn, July 1982 --
Featuring: Nicodemus, Mikey Slew, Carlton Livingston, Sammy Dread...
Operators: Claude & Patrick...
"The swansong for the Virgo International sound system was a move to New York City. Nicodemus, who had also made America his homebase, controls things along with his deejay spar Mikey Slew. For this dance held at Church Avenue in Brooklyn, Claude and Patrick are the musical selectors. The slow and heavy riddims of the Roots Radics are ruling the dancehall by now and they really suit Nicodemus' style of deejaying. Long time Virgo singers Sammy Dread and Carlton Livingston have also made the trip, and they nice up the dance JA style, bringing the good yard vibes to the people of Brooklyn."