Sugar Minott had dancehall music running through his veins. He was born at 26a Chisholm Avenue and as a youngster he was often found hanging around a busy Kingston dancehall venue located at 82 Chisholm Avenue and late at night when there was a dance in session he would sneak in to hear all the latest sounds. In the late seventies as he was making inroads into the music business at Studio One, firstly with the African Brothers and more successfully as a solo artist, he also was involved with sound systems in the Maxfield Park area of Kingston. These included working on a set called Sound Of Silence, and, more importantly the Black Roots sound system which was owned by several people including Blacka, Jimmy and Sugar himself. Tiring of the lack of financial rewards in the business in 1979 he opted to form, with help from Keith Hartley and James Brown aka Jimmy, his own labels. Black Roots was the name chosen for his own productions and early releases which did really well for him were his own titles "Man Hungry" and "River Jordan" as well as hit tunes from Trevor Hartley and Barry Brown. A second label Youthman Promotion was started almost simultaneously, early hits were deejay tunes from Captain Sinbad and Ranking Joe whose "Youthman Promotion" summed up Sugar's vision of the future. But things had to be put on hold for a couple of years as Sugar's personal success took him off around the world and he chose England as his base.
Returning home in 1982 Sugar committed himself to the Youth Promotion initiative, his way of giving back to the community. His headquarters was now located at 1 Robert Crescent, Kingston 5 and it was from here that his efforts went into overdrive. He knew that there were many, many talented youths who never had a chance to make it in the music business. The building of the Youth Promotion sound system allowed the ghetto youths to practice and learn all the skills needed to cut records which could then be released on Sugar's own labels, thus avoiding the trap of the rip off producers.
The Youth Promotion collective was very close to Beth Lesser and Dave Kingston's hearts and they have great memories of the sound and the people who frequented it. The Youth Promotion sound first started playing yard dances and parties but the official opening was probably late July 1984 (a YP 1ST Anniversary tape is dated 29th July 1985). Dave remembers that it consisted of "a Technics turntable, and I was once told by Stitch that the cross-overs were originally British-made, but re-conditioned in JA (like everything else...). The boxes were definitely homemade, and for some reason I seem to recall that they had a few amps, one of them being a mid-70's Carver" and Beth recalls "some Peavey amps...Pleasure Minott was so proud of them." The sound had the legendary Tippatone selector Jah Wise (b. Robert Campbell) selecting during 1984 with Major Stitch (b Melbourne James) operating. But when Jah Wise left for America in 1985 Stitch took over at the controls. Alongside him the sound mixers would include experienced recording engineer Peter Chemist (b. Donovan Thompson), Talouse and Sugar's brother Pleasure Minott (b. Rudolph Simms) , whose other expertise was stringing up the sound.
Beth says this of Major Stitch, "He didn't hang out with YP in Sugar's yard like the kids. Already an elder in the dance hall scene, after working with Black Harmony and Tippatone sounds, he had his own circles, his more elite dreadlocked crowd and his Spangler friends. Stitch was one of the original Spanglers, known for their dress style as much as for their toughness. And Stitch never ceased to dress the part. He wore a new hat everyday from his vast collection, pressed black pinstripe pants and Clarks on his feet. He was proud of his image and remained always cool and collected, never joining in with the juvenile hi-jinx of the rest of the crew. He retained the dignity he felt he had earned as one of the original, foundation men of sound system culture, but was also always relaxed and friendly, never snobbish or detached. Like all the originals in this milieu, he has gone through countless rip off and injustices in the music, but sticks with it and still selects sounds when he can despite his health problems."
With Sugar being a class singer himself, Youth Promotion always appreciated a dancehall vocalist. Some of the early singers to appear on the set were Trevor Junior whose "War & Crime" was the first single to appear on the newly reactivated Youth Promotion label in 1983. Beth describes him as "a good singer and a well behaved, nice young man, not wild and reckless like some of the rest of the crew". Cassey Man (b. Caswell Jones) was one of the of the original Youth Promotion singers from the days at Maxfield Park. He recorded for a few producers including Sugar Minott but "although he always possessed a fine voice" he never got that one hit to make the breakthrough.
One singer who did make his breakthrough on Youth Promotion was Tenor Saw (b. Clive Bright). A possessor of an unique, but often imitated singing style, Saw cut his first album "Fever" for Sugar Minott. In a dancehall soundclash he was a vital asset to have on your side and he graced the YP set on numerous occasions. In 1985 Beth pinpointed Tenor Saw as "a youth with a lot of ambition and enough talent to make his mark on music". Tragically Saw passed away in Houston in 1988 but in that short time he certainly left an indelible mark on the dancehall scene.
Yami Bolo (b. Rolando McLean) was a spar of Tenor Saw and he came to YP at a very early age and would take the microphone regularly in the dance with his youthful charm winning over the crowds. Beth says of Yami, "Back in the 80's, he was still a teenager and he was wild and free, but with a passionate desire to learn the music business. At 14, he was bleaching all night with the sound on the road and leading the line up in sound clashes. Growing up loose and living an unstructured life, he took more time to settle down. In this, his next mentor after Sugar, Junior Delgado, was helpful. But, in his teens, he climbed trees, got into scraps, smoked the chalice and lived like there was no tomorrow. But he never, ever strayed from music. Music was what he wanted to do and he stuck with it, through everything". He has gone on to carve a career as a conscious roots artist cutting numerous well received singles and albums.
Other ambitious youth singers like Junior Reid (b. Delroy Reid)and Half Pint (b. Lyndon Roberts) would often turn up at a Promotion dance in the early days. Reid, in fact, also cut his first album "Original Foreign Mind" for Sugar's Black Roots label which included the monster title track. Don Angelo (b. Donovan Smith) was another singer who was around Sugar from 1979 until he eventually made a breakthrough in 84/85 before moving to the Jammy's stable. Veteran dancehall singer Thriller (b. Devon Chambers) had been around the King Attorney/Papa Roots set during the latter part of the seventies and in 1984 Sugar recruited him for his sound and his soulful delivery can be heard on numerous tapes over the next few years.
Two other singers who graced the set and perhaps should have been better known were Chris Wayne and Lloyd Hemmings. Wayne was mentored by Sugar and just loved to sing and play guitar. Again he would often be there on the YP sound, singing and harmonizing, especially when Sugar Minott appeared in person. Lloyd is described by Beth as "a very talented singer and dancer. He was terribly under recorded because of his distrustful nature. But he could sound exactly like Sugar Minott and often sang harmonies on his work. He did trust Sugar. He could read and write music and had studied art. He was always trying to teach the younger ones who were often, unco-operative students to say the least. He sometimes seemed to drift from reality. During certain visits of ours he would seem better than at others. He was a very creative and talented young man. Lloyd lives and works in California now".
An impressive array of deejays passed through the Youth Promotion ranks during the halcyon days of the sound. Early starters included Daddy Ants, the older brother of Lloyd Hemmings, knew Sugar back in the seventies in the Waltham Park area. Known as the "Reggae Biter" he started with the Keytone sound before linking with up with Black Roots right from the very beginning. Another deejay with a long standing association with YP was Ant's sparring partner Daddy Shark, who is the younger brother of Josey Wales. He was a country boy from St Ann who came to Kingston to try and emulate his brother's success around 1985. Micmen like Santana, President Reagan, Skinny Ranking and Ashman (b. Reinaldo Ashman) could also be called upon during the first year of Promotions engagements.
Colourman (b. Fidel Henry) was a big favourite on Promotion. "Born in the parish of Manchester, Colourman had migrated and was working on Cosmic Force, a sound system based in Clarendon, late in 1984 when Sugar discovered him. The vibes were perfect. Sugar needed deejays and Colourman matched Sugar's love of both gospel music and the dance." Also known as "Colour Vibes" and "The Bible Man, Beth noted that he "always walked with his Bible in his hand, striding calmly through the midst of chaos, with a philosophical nugget on the tip of his tongue for anyone who needed a quick spiritual boost. While all around him were carrying on, boxing, climbing trees, smoking the chalice, Colourman was an island of calm. He took both his faith and his deejaying very seriously, but not so seriously that he couldn't joke about either one. His sense of humour was evident in his lyrics, like "Kick Up Rumpus" in which he compares a dancehall session to a sermon. "Colourman a go start the sermon, Crowd of people in the dance is the congregation, Money whe' you pay is the collection….". In fact, the song was banned from the airwaves for taking religion as a joke. But Colourman knew his heart was pure and clean and continued to preach the gospel in his toasting. Always a gentleman, thoughtful and polite, Colourman didn't last long in the rough and tumble atmosphere of Youth Promotion. He went to England with the sound on tour and stayed, although he would return for special performances."
Jah Mikey (b. Michael Mitchell) was already an established deejay on the scene, working sets like Emperor Faith, Papa Roots, Arrows and more, but by the time he graced the YP sound he'd been elevated to the title of General Jah Mikey. He was very under recorded but his positive contributions always enhanced a dance. He's still involved in the reggae and hip hop business having relocated to Los Angeles and opening a studio.
Younger members of the collective muscled in on the deejay action with Blacka T (b. Anthony Richards) perhaps causing the most ripples in the dance. Again under recorded, his only long player "Good Musician" was surprisingly not for Youth Promotion but was for Augustus Pablo. Often at his side, jostling for the mic was Dona P (b D. Brown). Beth remembers them, "Blacka T was young and wild. Him and Dona P were sparring partners. The T was for Trouble and the P for Problems. None of these kids were mean or badmen, they were just teenage boys let loose in the freedom of Sugar yard. Some were more serious about the music than others, but they all liked to have fun and fool around". Macca P (b. Peter ..) was another that often vied for a chance around the set.
A major force of the Ragga era Daddy Freddy (b. Frederick Nelson) first came to prominence on Youth Promotion, his quickfire delivery and entertaining lyrics stood him out from the crowd and he was in like a razor when soundclash time came around. He toured the UK with Youth Promotion and made his home there making groundbreaking Ragga/Hip Hop records whilst also starring on London sounds Youth Promotion UK, an offshoot set up in London and run by Earl Minott, and Sir Coxsone Outernational.
Deejays Tony Rebel and Bimbo, the original name that Garnett Silk went under, were two budding artists on the Destiny International sound. They travelled to Kingston to boost their careers and they could be found performing on Sugar's sound around 1986.
One colourful character around the Youth Promotion camp was undoubtedly Jackie Knockshot (b. Samuel Hamilton) and he first came to the attention of dancehall fans when he appeared licking off gunshot salutes on Sugar's mighty single "War & Crime" on the Youth Promotion label. He was remembered fondly by Beth as "a very talented cartoonist and he worked tirelessly on drawing comic books about the sound system scene and Jamaican life in general. Of course, his talent was never recognized. He was friendly, funny, very trusting and kind. There was no badmanship about him at all. He always kept people laughing with his imitations, sound effects, karate moves and his general horsing around. But, like everyone else, he was disorganized, sometimes thoughtless and often didn't act in his own best interest. He so wanted his mother to be proud of him for his comics. I'm sure she was always telling him to stop drawing and do his homework. Despite everything, he was always happy and exuberant, bursting with new ideas- for recording sound effects, for drawing. He wasn't always smart, but his heart was in the right place. I feel so sad that he came to a bad end." It seems he relocated to New York in the early nineties and was carving out a career deejaying as High Plains Drifter when it seems he became a victim of violent crime himself.
Pretty quickly the Youth Promotion sound began making waves in Jamaica's dancehalls. Even in 1985, with King Jammy's "Sleng Teng" changing the face of the music, Promotion still became one of the major players. Their rivalry with Jammy's throughout that year was fierce and with the advent of multiple sound clash events they soon locked horns with regularity. One such fixture was the showdown dubbed the "Shock of the Century" held at New Kingston's Cinema 2. The two sounds, plus Black Scorpio and Arrows, threw lyrics and dubplates at each other all night long. As to the winner, it was a very close fought thing with King Jammy's and Youth Promotion both putting up great all round performances. On the night they couldn't be separated, but according to Beth, "on the following Monday Barry G used his radio programme to announce the official winner: Youth Promotion."
From 1985 onwards Youth Promotion were a sound in great demand and there were frequent tours abroad taking in Canada, which was their first overseas venture in December '84, America and England, often with Sugar leading a full crew of deejays and singers. The period spanning the years 1985/86 were the best for the Youth Promotion crew but as ever things shift in reggae music and the nature of dancehall changed particularly with the emergence of the juggling sounds who gradually ousted the sounds which carried live artists. Luckily there are numerous sound tapes of Youth Promotion in action between the years of 1984-87 which highlight the vision that Sugar Minott had, which was to allow the underprivileged youth a chance to promote themselves in the dancehall business.
WCTD would like to acknowledge the invaluable help given by Beth Lesser and Dave Kingston. Many thanks.
Youth Promotion – 1 Robert Crescent, Kingston 5, 25th May 1984

Ft: Santana, Jungle, Major Manzie, Robbie G, Dona P, Sugar Minott, Jah Walton, Naggo Morris, Blacka T

Selector – Pleasure Minott

Mixer – Peter Chemist

"This is a real bonus as there aren't that many Youth Promotion sessions around from 1984 and this is just about the earliest that we've heard. This dance at Youth Promotions HQ celebrates Sugar Minott's birthday and he flexes his granulated vocals, as only he can, in songs like "Devil's Pickney" and "Gambling". Santana is a deejay with plenty to say and both Dona P and Major Manzie have quickly incorporated the UK fast style, with the latter shining on "Listen We". Jah Walton "passes through like a storm" before making way for the Heptones vocalist Naggo Morris who hails up the Youth Promotion set with soundbwoy lyrics. With a crisp musical selection from Sugar's brother Pleasure and a good set of entertainers around the mic, this all adds up to a fine early YP dance"
Youth Promotion @ HQ, 1 Robert Crescent, Kingston 5, December 1984
Featuring: Baby Face Nelson, General Jah Mikey, Blacka T, President Reagan, Don Angelo
Selector – Pleasure Minott
"This sounds like the early warm up of one of YP's regular HQ dances, often held on a Thursday night. Pleasure Minott runs tracks from George Nooks, Little John and Robert Ffrench while the deejays endeavour to get the posses dancing. The recently promoted General Jah Mikey is sounding good on "Can't Take Me Mother in Law" and "She Ain't Nobody" when deejay President Reagan in a more serious mood declares "Wicked A Go Run". When he takes his chance on the mic Blacka T's lively on "Lick It In A Stylee" and "What Dem A Say". Singers Sadoo and Don Angelo break up the DJ's monopoly with the latter's soundbwoy lyrics saluting the rising sound system."
Youth Promotion @ House of Stars, Rousseau Road, Kingston 5, 15th December 1984
Featuring: Junior Reid, Elfigo Barker, Colourman, Wayne Smith, Michael Palmer, Tenor Saw, Bikey Dread, Frankie Paul,
Sugar Minott, Half Pint, Welton Irie, Sonny Ranking, Daddy Ants, Patrick Irie, Copper Colour, Trevor Junior, Hornsman
Selector – Jah Wise
Mixer – Major Stitch
"This is an extended version, running at over 2 hours, of the live album that Greensleeves released as "Powerhouse Presents Strictly Live Stock" in 1985. The vinyl edition edited out just about all the deejay action but luckily they are included here. How Colourman's "Vibes" didn't make the final cut we'll never know, but the crowd at the House of Stars knew a good thing and they roar out their approval. Daddy Ants' "Nobody Run" is equally appreciated. Jah Wise's selection runs some wicked specials from Johnny Osbourne, Wayne Smith and the "Godfather" himself, Sugar Minott. A host of Jamaica's ruling singers are in the place including Frankie Paul, Junior Reid, Tenor Saw and Michael Palmer and they sing some of their biggest dancehall boomshots of the day. "Strictly Live Stock" and a whole lot more!"
Youth Promotion @ Negril, Westmoreland, circa January 1985
Featuring: Charlie Chaplin, Screecha Nice, Sadoo, Dicky Ranking, Ignorance, Sugar Minott, Yellowman, Half Pint,
Junior Reid
Selector – Jah Wise
Mixer – Major Stitch
"Youth Promotion live way out west in Negril and this features some real heavyweights on the sound. Yellowman can still get the crowd roaring and he drops a medley of lyrics on the "Answer" riddim which includes "Galong, Galong, Galong" and "Walking Jewellery Store". Charlie Chaplin is on throughout the session and his "Dance In The Atlantic Ocean" and "Weeping & Wailing" has the place bubbling. Spars Junior Reid and Half Pint travelled together a lot at this time and the latter's "Freedom Fighter" is proving popular in the dance."
Youth Promotion vs Gemini @ Gemini Club, Halfway Tree Road 30th January 1985
Colourman, Thriller, Little John, John Wayne, Screecha Nice, Wayne Smith, Sugar Minott, Dicky Ranking, Shelley Thunder, Daddy Ants, Trevor Junior, Junior Reid, Rod Taylor, Joe Lickshot
Selector – Jah Wise
Mixer – Major Stitch
"Another big line up at the Gemini Club with two sounds in the lawn, Youth Promotion and Gemini. In what must have been one of Jah Wises' final appearances at the controls before relocating to New York, he selects an array of big tunes from the likes of Pad Anthony, Johnny Osbourne, Earl 16 and Wayne Smith. The latter's "Under Me Sleng Teng" has just burst onto the scene and he has a massive hit on his hands, and of course the crowd won't let him go without a live rendition. Dicky Ranking now seems to have linked up with the YP crew forming a good partnership with Colourman for '85."
This one comes courtesy of Beth & Dave... Many thanks
Youth Promotion @ HQ, 1 Robert Crescent, Kingston 5, 24th February 1986
Featuring: Sugar Minott, Mikey General, Little Rohan, Daddy Shark, Daddy Ants, Sadoo, Lyrical, Billy The Kid, Thriller, Dona P, Yellow Bird, Yami Bolo
Selector – Major Stitch
Mixer – Talouse
"Where better to have your wedding than at the headquarters of one of Jamaica's leading sounds. With the help of their friends at Youth Promotion that's exactly what Dave and Beth decided to do, and here is one part of their wedding dance which Jah Stitch recorded and presented to them as a reminder of their special day. Fittingly it starts with Stitch dropping the needle on Michael Prophet's "Here Comes The Bride" and a succession of YP artists, including Sugar Minott himself singing and deejaying his own take on the wedding song, step up to wish them well. Twenty five years on and their treasured memories live on here."
**EXCLUSIVE**
Youth Promotion @ Port Antonio, Portland, circa February 1985
Featuring: Colourman, Early B, Hugh Griffiths, Joe Lickshot, Nevada Joe, Thriller, Dona P, Lenky Roy, Conroy Smith
Selector – Major Stitch
Mixers – Pleasure Minott
"Another crucial exclusive from the vaults of White Squall and this one has the talents of Early B in a rare appearance on Youth Promotion. His righteous lyrics about "Selassie" and "Rasta Is Life" and his cautionary tale in "What A Drive" are typical of the mans storytelling style. The same can be said of Colourman, who's "Bible Fi Dem" and "Read Your Bible" continue the roots and culture theme in the dance. In contrast singers Thriller, Hugh Griffiths and Lenky Roy provide the Port Antonio crowd with some well sung cover versions."
Many thanks once again to Daddy White Squall for this super crisp, straight from the master tape recording
Youth Promotion @ House of Stars, Rousseau Road, Kingston 5, circa February/March 1985
Featuring: Dicky Ranking, Ashman, Daddy Ants, Redman, Thriller, Trevor Junior, Blacka T, Colourman
Selector – Major Stitch
Mixers – Pleasure Minott & Talouse
"Again Youth Promotion make the short trip from Robert Crescent to string up their sound at the House of Stars on Rousseau Road. Major Stitch is in full control now and he has an excellent supply of music to work with. Specials from Tenor Saw, with "Youth Promotion Ina Fever" and Wayne Smith, with "Ain't No Meaning" are the exclusives here. Trevor Junior, just one of their fine singers, praises Sugar's set when he voices a ruff tribute, "Only One Sound". Ashman is a deejay with lyrics and responds with "Respect Me Teacher", "Trouble & Botheration" and "Diseased Body", all showing his good form."
Youth Promotion @ HQ, 1 Robert Crescent, Kingston 5, 1985
Featuring: Dicky Ranking, Tenor Saw, Colourman, Half Pint, Junior Reid, Lloyd Hemmings, Little Kirk, Jackie Knockshot
Selector – Major Stitch
Mixers – Talouse
"Thursday night was dancehall night at the Robert Crescent HQ and they've attracted some good artists to the yard. Tenor Saw rides the riddim to "Boom Shacka Lack" for two pieces, "Time Longer Than Rope" and "Row My Boat". More Junior Reid selection follows and then the man himself strides in and commandeers the mic for some crucial tunes like "Youth Of Today", "Reggae Gone International" and the hit "Dreadful Day."
Youth Promotion @ Waltham Avenue, Kingston 13, April 1985
Josey Wales, Tenor Saw, Colourman, Sugar Minott, General Smiley, Lloyd Hemmings, Jackie Knockshot, Joe Lickshot
Selector – Major Stitch
Mixers – Talouse
"An excellent session held on Waltham Avenue featuring some big names from the dancehall scene. The boss, Sugar Minott, is on hand to voice his classic "War & Crime", with Jackie Knockshot adding those sound effects as per the original. One of this tapes highlights is General Smiley's strong solo performance here on pieces like "Blackness Awareness" and "Woman Due Respect". Also seeing a lot of the microphone action are favourites Tenor Saw and Josey Wales and both put in good contributions throughout."
We have 2 different copies of this one, the short 40 minute one is better quality but the second copy has more of the dance on it. We have put them both up...
90 mins Not great quality 2016
Youth Promotion @ Love Lane, Kingston, April 1985
Dicky Ranking, Super Cat, Half Pint, Peter Metro, Tenor Saw, Colourman, Yami Bolo, Junior Reid, Sugar Minott, Little Twitch,
Dirty Harry, Daddy Ants, Thriller, Daddy Woolgy, Squiddly Ranking
Selector – Major Stitch & Ainsley
Mixer – Talouse
"Youth Promotion meets Killamanjaro in downtown Kingston with the Jaro posse mixing in with Sugar's crew resulting in a highly entertaining evening. For one night only we have two selectors, Major Stitch and Ainsley sifting through the music box to find the top riddims for the supas to work with. Unsurprisingly it's the "Sleng Teng" which has them all lining up for a slice. Tenor Saw has his "Pumpkin Belly", Yami Bolo is "Under Me Fat Thing", Peter Metro has "No Tired Body" and Sugar Minott knows it's a "Jam Right In The Street". Super Cat's wicked on some Studio 1 rhythms for "Nanny Goat Skank" and "Your Love Have A Hold" while Peter Metro namechecks Smiley Culture as an inspiration for "Police In A England".
Youth Promotion @ Skateland, Half Way Tree Road, Kingston 5, 26th April 1985
Blacka T, Colourman, Half Pint, Josey Wales, Tenor Saw, Chris Wayne, Sugar Minott, Daddy Ants, Dona P, Robbie G, Yami Bolo, Louie Ranking,
Selector – Major Stitch
Mixer – Talouse
"Heralded as Youth Promotions first ever dance in Skateland and over the course of this 3 hour recording it shows how they have grown to be a top crowd pulling sound system. Major Stitch runs through selections ranging from Little John, King Everall, Wayne Smith, Johnny Osbourne to the bossman Sugar Minott. Josey Wales is the senior deejay on show directing the proceedings in typical "Outlaw" style but not forgetting to stand aside to allow the likes of Tenor "Million" Saw and Colourman to do their thing. In the latter part of the dance Michigan and Smiley shine on solo pieces "Emancipation" and "Piece Of The Action" respectively and, with the recent shooting at a Gemini/Papa Moke dance in Bronx still very fresh in the mind of the entertainers, visitor Louie Ranking sums things up accurately with his "New York Hot" lyrics."
Massive thanks to Daddy Ruffhouse for part 2 of this great dance....
Youth Promotion @ Arrows Bamboo Lawn, Oracabessa, St Mary, circa May 1985
Colourman, Jah Mikey, Dread Bob, Rod Taylor, Daddy Ants, Nicodemus, Sadoo, Sugar Minott, Blacka T, Daddy Culture,
Jackie Knockshot
Selector – Major Stitch
Mixer – Talouse
"Promotion travel to the North Coast to play at Bulby's Arrows Bamboo Lawn venue. The vibes are nice for this dance and it's down to the sterling work of the YP posse. Colourman is growing in stature as their leading deejay, with his "Watch The Jeep", "Dem Wicked" and "Almshouse Business" standing out from the crowd. Jah Mikey and long time spar Nicodemus are reunited around the control tower for the night and their experience shows on Mikey's "Money Man Skank" and Demus's "Coke Seller".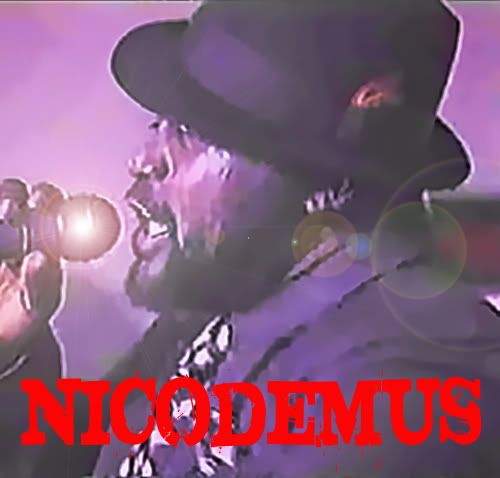 Youth Promotion @ Jones Town, Kingston, July 1985

Daddy Ants, Ashman, Macca P, Dona P, Thriller, Patrick Irie, Nicodemus, Don Angelo, Jah Mikey

Selector – Major Stitch

Mixer – Tulusie

Also – Jackie Knockshot

"Peter Chemist and Lloyd Hemmings are the promoters for this Youth Promotion dance held on a Thursday night early in July. Nicodemus, who's back on the island working for Sturmars, passes through with Jah Mikey. He grips the mic and comes forth with "Ayotollah" and "Eagles Feather" whilst Mikey chats in a "Concrete Jungle Style". Ashman controls the early part of this, rhyming nicely on "Ride & Stop", "Let Off Money" and "Trouble & Botheration". Singer Thriller always sounds assured when given the chance and "Cast Eye Thing" and "Sweet Dreams" are typical of the man's capabilities."
** EXCLUSIVE**
Youth Promotion @ House of Dread Lawn, Negril, Westmoreland, 1985
Featuring: Dona P, Blacka T, Dicky Ranking, Chris Wayne, Daddy Shark, Daddy Ants, Brigadier Jerry, Sister Sheila, Sadoo
Selector – Major Stitch
Mixers – Pleasure Minott & Peter Chemist
"Another crystal clear, vital exclusive from White Squall and this one's a real scoop...Brigadier Jerry on Youth Promotion. This line-in recording was obtained at a YP session at the House Of Dread Lawn in Negril. The first part of the dance focuses on the Youth Promotion crew and has Dicky Ranking , just back from America, sounding great particularly when detailing the trafficking of "100 lbs of Collie" from Lucea. Major Stitch picks out music from Little John, Barrington Levy and Scion Success, while Blacka T comes with lyrics like "Two Foot Walking" and "Daddy Motion". Michael Prophet's "Gunman" opens the proceedings for part 2 and Briggy enters the dance and answers it with "Gunman A Weh Yu Get The Guns From". The General's "Hell In A Town" is a version to "Sleng Teng" and "Whole Heap A Sensi" is in answer to Wayne Smith's heavy "Darker Shade Of Black" cut, "Ain't No Meaning". Daddy Ants shows he's no slouch when he takes over things late on, chatting well on "Busy Body", "Night Rider" and "Reggae Biter", his ode to himself."
**Another White Squall/ WCTD Exclusive**
Youth Promotion v Arabic Int @ Mt Salem, Montego Bay, St James, August 1985

Macca P, White Mice, Daddy Ants, Jackie Knockshot, Squiddly Ranking, Daddy Shark, Little Rohan, Jesse James, Little Dean, Lady Saw

Selectors – Daddy Mellow, Daddy Reds

Mixer - Tulusie

"Most Kingston sounds liked to take their sound "out a country" and this time it's a clash against Arabic International in Mt Salem area of Montego Bay. Daddy Ants chats in fine style on "No Mash Me Down" and "Dance A Fire" and likewise his spar Daddy Shark on "Ugly Monkey". Squiddly Ranks does a spot of freelancing and gives the crowd pieces like "Know What Police Can Do" and "Black History". On this night the Promotion crew is indeed very youthful with pre-teens White Mice, Little Rohan, Jesse James and Little Dean all getting time to work the mic. There is also an early appearance from a young Lady Saw who sings and deejays on "John Crow" and "One Dance".
Youthman Promotion - Sheffield, Westmoreland 1985

Ft: Tenor Saw, Sugar Minott, Hugh Griffiths, Yellow Bird, Principal Grundy, Yami Bolo, Colourman, Daddy Ants, Dona P, Jackie Knockshot

Selector: Major Stitch Mixer: Tulusie

Here's another fine session featuring Youthman Promotion.
Albino Gregory Isaac's soundalike Yellow Bird fires up the place with a couple of vocal excursions including his take on 'I don't want to be lonely tonight'. Then Major Stitch drops 'Them a Lickshot' and Sugar steps up to give the Sheffield posse it live & direct backed up by Donna P.
Stitch then goes down inna Tony Tuff selection and over 'Mix Me Down' Colourman gives us his 'Vibes up a Sound' lyrics followed by 'Booga' singing 'Raindrops Keep Falling on my Head'
Major Stitch then turns to Half Pint for the next few tunes and we get Hugh Griffiths & veteran Principal 'Jah' Grundy inna combination style over the 'real rock' rhythm.
We get more great combination vocals from Sugar & Hugh Griffiths then when the taxi rhythm drops Sugar brings in 'the next youth to buss, the smallest singer in Jamaica' Yami Bolo who in turn passes the mic to the late great Tenor Saw who delivers his 'Down a Westmoreland, man a nyam man'
The tape finishes with Tenor Saw over the Stalag rhythm singing his classic 'Ring the Alarm'..
Youth Promotion – Maxfield Avenue, Kingston, October 1985

Ft: Mellow Tuffy, Colourman, Don Angelo, Pinchers, Jackie Knockshot, Daddy Ants, Dicky Ranking, Joe Lickshot, Hugh Griffiths, Joy, Nitty Gritty, Shinehead

Selector – Major Stitch

Mixer – Tulusie

"Here's a dance in the Maxfield area held not long after the annual Reggae Sunsplash and it's still a topic of conversation for the Youth Promotion collective. Shinehead's still on the island but sadly the tape runs out just as he gets started. The "Bible Man" Colourman is here to "Vibes Up A Sound" and during his time on the microphone he hails up Promotions number one selector, "Major Stitch A Kick Up Rumpuss". His selections include hot numbers from Barrington Levy, Trevor Junior, Michael Prophet and Super Black. The singers are represented by Hugh Griffiths, who sparkles with a "Tribute To Ken Boothe" and not to be outdone Nitty Gritty draws his fresh "Hog In A Minty" lyrics. With Joe Lickshot and Jackie Knockshot both in the lawn there is even time for a mini "Lick Shot" sound effects clash to keep the crowd entertained."
Youth Promotion vs Blackstar Skyliner Entertainment Center, Savanna La Mar March 1986
PART 1
Featuring: Colourman, Yami Bolo, Sugar Minott, Thriller, Mikey General, Daddy Ants, Chris Wayne, Papa Dimes, Tony Rebel, Little Devon, Little Rohan, Jackie Knockshot, Joe Lickshot
Operator: Major Stitch
Mixer: Tolouse
**Another exclusive White Squall line-in straight form the master tape**
Thanks to Daddy White Squall we can now present to you the first part of this big soundclash between Promotion & Blackstar. It's dubplates galore from Major Stitch with specials from, King Kong, Teddy Brown, Sugar Minott, Chris Wayne, Superblack, Shinehead, Junior Reid & Johnny Osbourne.
Colourman is on this tape a lot flashing a whole heap of Bible lyrics and when he drops his big hit 'Kick up rumpus' he gets the crowd bawling for more. The crowd are whipped into a frenzy again when the two youthman DJ's Rohan & Devon go back to back over the 'Answer' Rhythm.
There's a small clash of the human guns, Jackie Knockshot & Joe Lickshot as Knockshot gives the Sav La Mar Posse 'The death of Joe Lickshot'. Joe comes back with his 'Original silencer'.
Sugar tells the crowd that "Danny Blackstar used to check him for nuff music" before Stitch drops a wicked version of the 'Rockfort rock' rhythm for Yami Bolo to sing 'Mother move' over.
A fantastic session this one, full of vibes and great music, and we are truly grateful to Daddy Squall for giving us yet another exclusive line-in session for the massive, Thank you my old friend.......
PART 2
Featuring: Sugar Minott, Hugh Griffiths, Tony Rebel, Yami Bolo, Chris Wayne, Conroy Smith, Mikey General, Mr Butter, Colourman, Talking Irie, Patrick Irie, Blacka T, Jackie Knockshot, Joe Lickshot
Operator: Major Stitch
**Another exclusive White Squall line-in straight form the master tape**
Youth Promotion are in an almshouse mood for this big clash in Sav La Mar. It starts off with the late great Booga Minott giving the Westmoreland posse his massive hit 'Herbman hustling' before bringing in Josey Wales brother Daddy Shark who rides the version inna fine style. Major Stitch then drops 'Lazy Body' by Echo Minott and over the version we get to hear from Youthman singers Chris Wayne and Mr Butter who models himself on the singer Thriller. The great Colourman is next up to the mic and he delivers his 'Dirty ways girl' lyrics.
Promotion then hand over to Blackstar, shame we don't get to hear what Blackstar had to say because when Promotion sign back on they really are in a burial mood and indeed they drop a dub on the Burial rhythm featuring the godfather Sugar himself singing the Promotion national anthem
'Eternal father bless this sound' Another Sugar dub follows, the massive 'You lick me first' and Sugar tells Tiger that "I want to record you but the horse that your riding is not ready"
Major Stitch drops a great Half Pint special called 'Due to Youth Promotion' Sugar sings his classics 'Vanity/Roll River Jordan' over the version in a medley fashion, before Tony Rebel comes with 'A funeral service for a big sound' and a next lyrics aimed at Tiger.
Jah Stitch Plays some great specials including some killer Nitty Gritty's...
This is a great tape and a fitting tribute to Sugar Minott & Daddy White Squall.... R.I.P
Youth Promotion @ Sheffield, Westmorland, 1986
Featuring: Sugar Minott, Colourman, Blacka T, Daddy Ants, Chris Wayne, Dona P, Tenor Saw, Thriller, Daddy Shark, Patrick Irie
Selector – Major Stitch
Mixer – Chemist
"Wicked Promotion dance held in the town of Sheffield in Westmoreland. The Robert Crescent posse have made it all the way out west and the "Boss" Sugar Minott is there too. Major Stitch only has to draw a Studio 1 riddim and Sugar is right in there with a killer lyric. Whether it be roots, as in "Rock Of Ages", or lovers, as in "Come Back Baby", or current runnings, as in "Call Me No Boops", he handles the microphone effortlessly. Tenor Saw, who got his first big breakthrough with Youth Promotion, pleases the Westmoreland people with tracks like "Golden Hen" and "Run From Progress". Others get their chance too, and Daddy Ants on "We All Rise To Meet Jah" and Colourman on "Bible Teacher" are excellent, but really this is showcase for Sugar Minott at his dancehall best."
Yet another from the Daddy White Squall/WCTD connection.....
ANOTHER WHITE SQUALL LINE IN STRAIGHT FROM THE MASTER TAPE
Youthman Promotion SNWMF Boonville, CA 2005
Featuring: Sugar Minott, Passion Minott, Richie Spice, General Smiley
Operator: Drifter
We carry on with our tribute to the late great Sugar Minott with this really nice session from his set Youth Promotion caught live at the SNWMF in 2005. The first part has Drifter running a wicked revival selection including hot specials from amongst others: Dennis Brown, Lone Ranger, The Melodians, Johnny Osbourne, Tenor Saw, Freddie McGregor, Terry Ganzie & Sugar Himself.
After a while Sugar & his daughter go in a old time style on the mic before Richie Spice steps up to sing over some rhythms. Veteran deejay General Smiley gives us the original Studio 1 'Rub a dub style' after Sugar performs his classic 'Vanity'.
A great tape this one and it comes in 2 parts running for nearly 3 hours...